Shopping Cart
Your Cart is Empty
There was an error with PayPal
Click here to try again
Thank you for your business!
You should be receiving an order confirmation from Paypal shortly.
Exit Shopping Cart
The Paul Pert Screen Collection
A Resource Devoted to Classics of the Golden Age
____Incorporating The Cult Screen Archive____
British television recommenced in mid-1946 after having been suspended for the duration the war. Transmissions in the United States and much of Europe however, had continued throughout the war.

In March 1945, a report produced by Lord Hankey's Television Committee recommended that television transmissions from Alexander Palace should be resumed. These and other recommendations were accepted by Parliament in September 1945 and television finally recommenced on the 7th June 1946, although the broadcast area was limited. One of the committee's recommendations was that service should also be expanded to cover other provincial centres. The first of these was Birmingham. This meant laying over 100 miles of co-axial cable which took until the end of the decade to complete.
Due to post-war shortages, a limit for production of television sets in 1946 was set at 78,000 — a generous figure meaning that some manufacturers found it difficult to fulfil their aspired quota due to a shortage certain types of wood. This resulted in some manufacturers ending up with more chassis than they could make cabinets for. Many sets were still of pre-war design, although Pye had been working on a theoretical design for a post-war set as far back as 1941, giving them a considerable head start.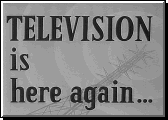 The availability of post-war materials had been somewhat overestimated and consequently, the Board of Trade's official figure for television set manufacture came to a total of 5,878 for the year 1946. The cost of a TV license was £2.
In 1947 a fuel crisis leads to power shortages, which meant that the TV service was suspended. Sales of TV sets declined, much to the annoyance of manufacturers and dealers who had been working hard to build up sales. A reduced TV service resumed in March. The few fortunate enough to own a television set found themselves having to pay more for their house insurance as it was estimated that one in every thousand sets caught fire.
On the 9th of November the first high definition tele-recording was made by BBC Television of the Remembrance Service at the Cenotaph. The film was re-broadcast in the US by NBC the same evening. Tele-recording was used again the same month when the BBC staged a major outside broadcast to cover the marriage of Princess Elizabeth and The Duke of Edinburgh.
Also in 1947 the 15th 'Radiolympia' exhibition took place. Although many new televisions made an appearance at the show, continued shortages of materials meant a fair number of these sets did not begin deliveries for almost a year. It was subsequently decided that there would be no exhibition the following year to allow manufacturers time for development and to focus more on the much needed export market.
However, at the beginning of 1948, a report blaming the shortage of CRTs on a lack of skilled glass blowers was issued by B.R.E.M.A. By the end of the same year an American company began manufacturing an all-metal CRT of spun chrome-steel alloy with an almost flat plate glass face. It offered a larger viewing area, better shielding and was lighter in weight. An equivalent UK version would not be introduced until the start of the 1950s.
In 1949 the very first live weather forecast was broadcast. Also in this year HMV introduced what they claimed to be the cheapest TV in the world, the model 1807. However, they were notoriously unreliable which did little for HMV's reputation which had previously been as an up-market manufacturer.
In one month alone 28,000 televisions were built which exceeded the total number of sets produced in the whole of 1947 and raised the total number of sets produced since the war to a quarter of a million.
The year 1949 also saw the return of the Radiolympia exhibition and demand for larger screens meant that several manufacturers including Alba, Decca, Ekco, Ferguson, Ferranti, Philips and Vidor were displaying 12" projection sets.
Pye demonstrated a colour TV system inspired by an American idea using a rotating coloured wheel and HMV demonstrated a TV fitted to a car. EMI, owners of the Marconiphone and HMV brand names, estimated that they had received over £1,000,000 orders at the exhibition.
Worldwide, more countries were beginning to provide television services but there was no standardisation of formatwith 405 lines in the UK, 441 lines in Russia, 525 in America, and 567 in Holland.
In Denmark, experimental transmissions began using a transmitter built by Philips which operated on a 567-line system and in Italy, Radiotelevisione Italiana (RAI) began an experimental service. France having started with 455 lines, then moved to 441 lines and then in April began experimental 819-line transmissions from Paris. 455 line was only transmitted from Paris and was maintained until late 1957.

/